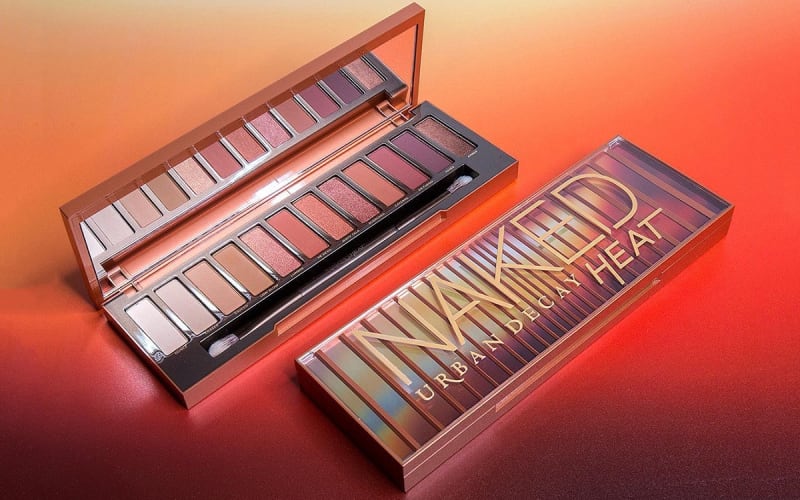 Urban Decay, renowned for its rich lip colours, budge-proof mascara and legendary eyeshadow palettes, is opening a new store at Westfield Stratford City on Friday 21 July! Even better, the rainbow-bright beauty brand is upping its game big time, with a dazzling array of flawless new makeup and illuminating skincare that will win your heart before you can say 'let's get Naked'. On Friday, there will be 100 of the new Naked Heat palettes available to buy ahead of the UK launch in late August, plus complimentary engraving when you buy a Vice lipstick - so you'll want to be there bright and early. Get ready to swatch!
Naked Heat Palette, £39.50, Urban Decay
Naked Heat is Urbay Decay's smoking new eye palette. Its is filled with twelve fiery shades, including a spectrum of rich browns, burnt oranges and shimmering bronzes for those who like it hot. With a full-size mirror and double-ended brush, achieving that sunset eyeshadow look has never been simpler.
Naked Skin Shapeshifter Palette, £39.50, Urban Decay
The Naked Skin Shapeshifter has everything you need to create a flawlessly sculpted face. This is an all-in-one contouring, colour-correcting and highlighting palette, with a mix of finely-milled powders and buttery creams for a refined finish. With shades to span the complexion spectrum, this is a palette thsat delivers.
Go Naked Perfume Oil, £18.50, Urban Decay
Described as the "essence of summer", the rollerball wand contains fresh top notes of Italian bergamot, mandarin and lemon, dries down to a skin-like scent of lavender, jasmine and musk. It'll only be around for a short while, so if you want in on this day-at-the-beach perfume, make sure you move fast.
Liquid Aura Illuminating Mix-In Medium, £24.00, Urban Decay
Say hello to Liquid Aura Illuminating Mix-In Medium. Simply add a shot of the opalescent serum into your everyday foundation for luminous skin, or sweep it lightly across the cheekbones, bridge of the nose for extra highlight. It's a handbag saviour the morning after a night out, or before you step off your long-awaited summer holiday flight.
Vice Liquid Lipstick, £15.50, Urban Decay
Urban Decay just released a whole new line of liquid lipsticks. The shades come metallized and matte, and range in shades from peachy neutrals to brilliantly pigmented shades that'll stay put all day long. Handily, the new design features a flocked paddle applicator, meaning you can perfect the corners of the lips and the Cupid's bow with ease.