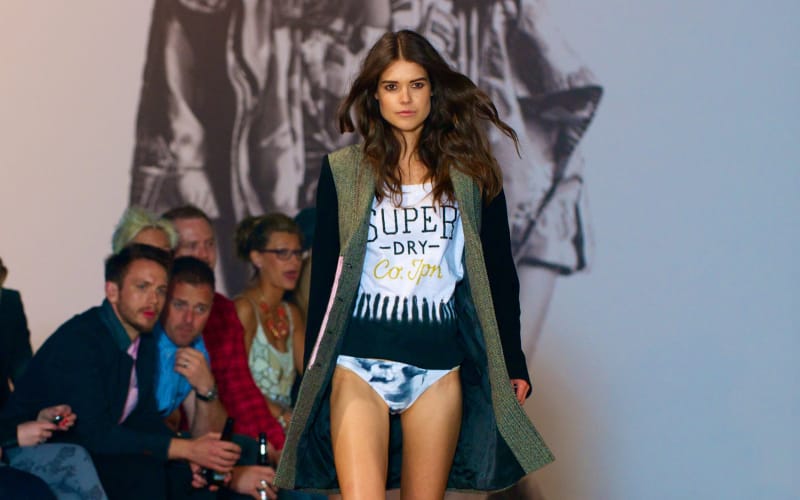 Through an iconic marriage of Japanese imagery, American vintage styling, and Savile Row tailoring and quality, the British brand Superdry has enjoyed a meteoric rise to being the store where everyone buys their casual wardrobe staples. Genius collaborations with the likes of British tailor Timothy Everest and celebrity fans including David Beckham and Cara Delevingne have sealed their fame. So it was with great pleasure, that on a rainy London summer's evening a few days ago, under a flotilla of 100 Superdry umbrellas, that we joined founders Julian Dunkerton and James Holder at London's awesomely scaled Battersea Power Station to celebrate Superdry's tenth anniversary.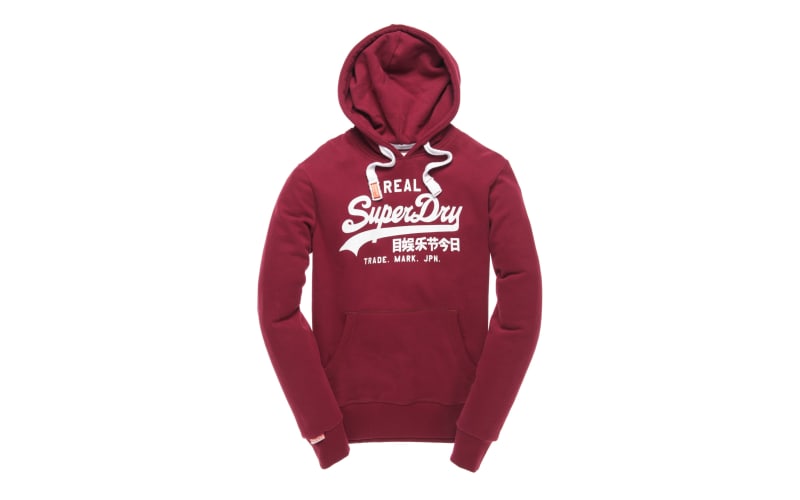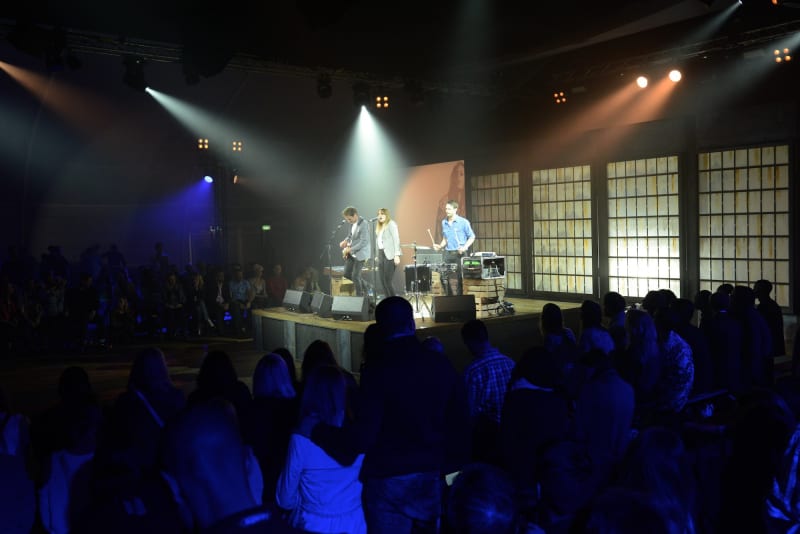 As Champagne and beer flowed, Oreos were deep fried and Macaroncini balls (yes, orbs of mac'n cheese) were devoured, a festive crowd of Superdry superfans including Jamie Oliver were treated to an exclusive SS14 catwalk show accompanied by a live performance from emerging indie band, Coves
http://www.youtube.com/watch?v=0dOVFO8v9pw
Show highlights included bleached denim shorts for girls, immaculate summer tailoring for boys and the unveiling of a soon to be launched premium womenswear line that includes a gorgeously bold orange and yellow striped shift dress. To seal what was a perfect evening, we also got the chance to talk to the men behind this iconic British brand.
The influence of Japanese and American Youth culture in particular is a big part of Superdry's appeal, where does the influence of London youth come into play?
James Holder: Really from our own experiences, Superdry came from our history and our desire to offer something different in terms of design. We've always loved British tailoring and quality and I think it's still important in fashion.
I've been told it's a rare thing to get you both in the same room, how do continue to collaborate with such busy schedules?
Julian Dunkerton: It is! But we make time; we have intense, set periods where we lock ourselves in a dark room… (laughs) No, we put aside three weeks every season for us to design and of course we speak on the phone all the time. But James and I have two different eyes in terms of the business and I don't think one would work without the other.
In terms of designing new collections, how do you translate influences from the catwalk in your clothes or are you not consciously affected by what those designers produce?
James: I'm furiously aware of what's on the catwalk and the competition but we're commercial with a twist, different but accessible. Every season we deliver a twist on what's going on in fashion.
How does music in cultural terms affect your designs?
James: Loads but our music taste has evolved over the last five years. It's so interlinked with the creative process, especially British bands. We're so excited about the band performing tonight (Coves), we think they're really good.
Why do you think the brand has such youth appeal?
James: For us great design is always in conversation with pop culture, and Superdry fans are connected to both. So we invest in design and deliver a twist on what fans of Superdry already love.
Julian: We've always invested in design and have a shared urge to progress and I think they get that.
You don't use heavy advertisement and don't appear to actively seek celebrity endorsement but do you think celebrity endorsement adds to your popularity? For example David Beckham wearing your Brad jacket, Cara Delevingne in one of your t-shirts?
James: If people want to wear it it's cool. David Beckham bought that jacket and wore it to bits and it got more and more battered and looked better. You can't fake that stuff because it shows.
To many Superdry seemed like a runaway success, did it feel like that to you?
James: Obviously everyone here is really excited about celebrating 10 years and so are we but we're always focused on the future, on the next 10.
And what's have you got planned for the next 10 years?
James: More womenswear and a big denim project, we're moving to become a global denim brand.
Julian: And business wise, global success.