At last! It's time to buy those high fashion pieces from your luxury lust list.  While full price, these items can be strictly off-limits to those on a budget, but now that Christmas is over and the price tags have shrunk down to virtually nothing… (or whatever else you need to tell yourself to justify the buy), it's time to pounce. Whether an incredible handbag for life, beautiful Jimmy Choos or a plaid shirt from Burberry, it's time to get a fashion dopamine hit.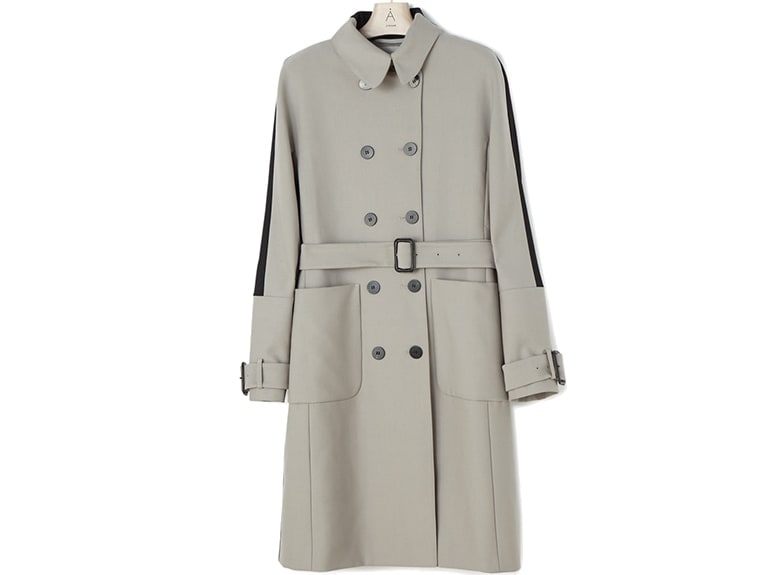 Ada quilted trench, was £595, now £416, A by Jigsaw
This beautiful trench from Jigsaw's Luxury 'A' diffusion line is made from the finest Italian virgin wool, featuring a luxurious quilted lining, horn buttons and leather-covered buckles on the cuffs and belt. Its quirky two-tone design makes in it incredibly versatile and super stylish.
Oversized square sunglasses, was £250, now £122, Salvatore Ferragamo
A pair of statement shades are always a feel-good buy, but when that discount is applied we cannot resist. With their unusual cut-out design and even better price tag, these shades from Ferragamo have won us over.
Cream puff-sleeved shirt, was £199, now £119.40, Sandro
French powerhouse Sandro have cracked the secret of stylish French sophistication when it comes to their simple but elegant designs. This beautiful puff-sleeved shirt is no different, only now it is Parisian chic at a snip.
Lace appliqué check shirt, was £495, now £250, Burberry
This beautiful Burberry checked shirt with a point collar and a concealed front closure has been transformed by its Swiss-woven macramé lace appliqué. This shirt is guaranteed to dress up any pair of jeans and become one your favourite pieces in no time.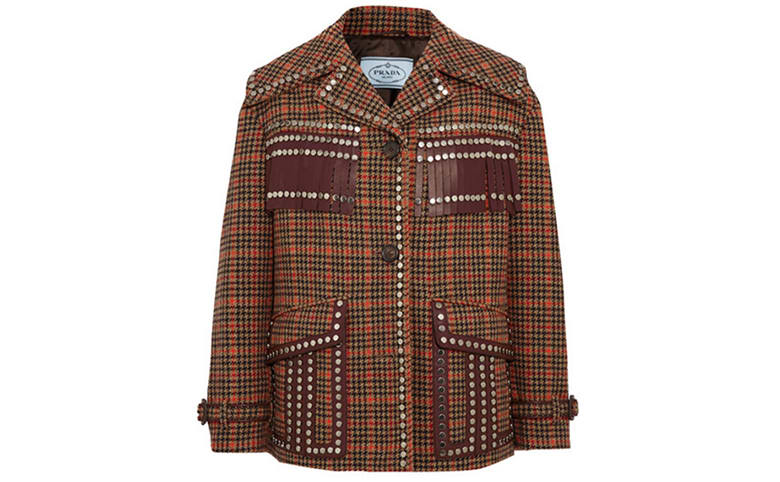 Leather-trimmed studded wool-blend tweed jacket, was £4, 215, now £2,180, Prada
This Prada jacket is one of those items you see in the shop window and stand there pawing at the glass for. As seen on the AW17 runway, this wool blend tweed jacket has now reached an attainable - and more importantly, justifiable - sale price.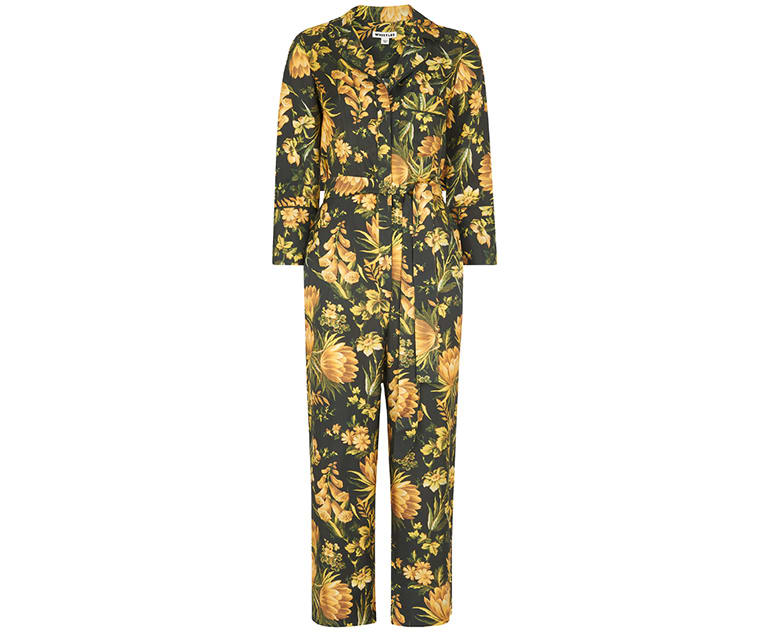 Foxglove print silk jumpsuit, was £259, now £95, Whistles
This incredible floral jumpsuit from Whistles is a steal for your soon-to-be-summer wardrobe. Made from 100% silk, this luxurious all-in-one perfectly blends between day and night with the added advantage of an incredible discount.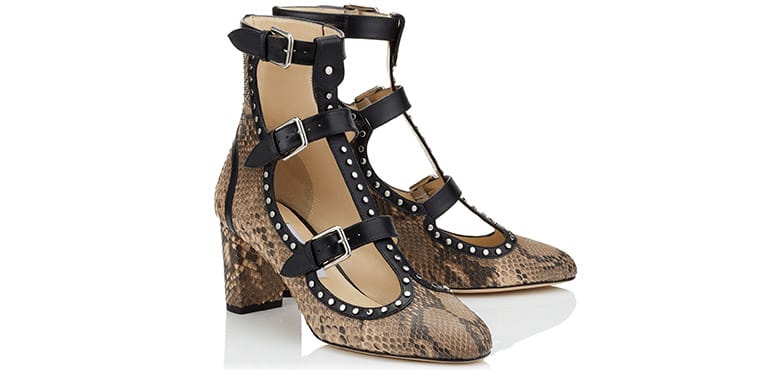 Hartley 65 boots in Nude, was £1,375, now £825, Jimmy Choo
These Jimmy Choo boots in nude snakeskin combine a block heeled round toe pump with studded details with three adjustable buckle straps. Wear with cut-off jeans and a white t-shirt to make sure every spots you're impeccable sale skills this season.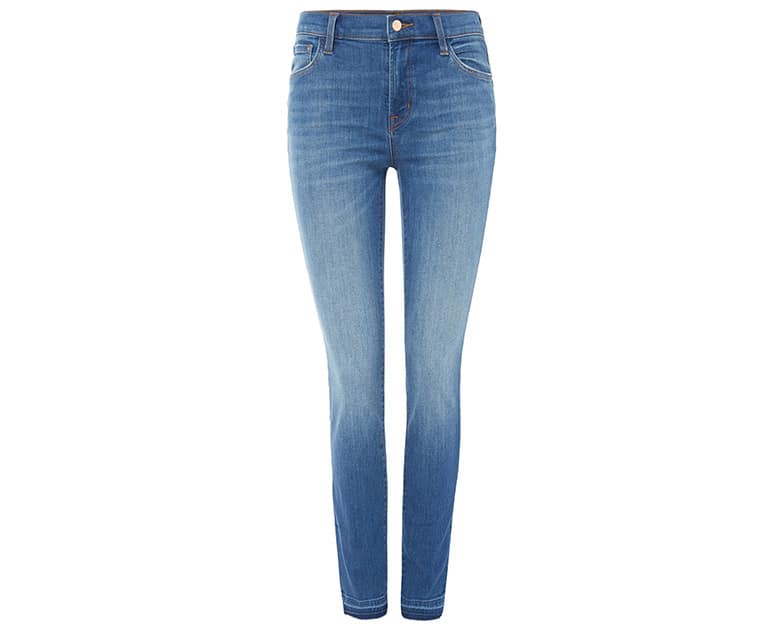 J Brand mid-rise skinny jean in 'Angelic', was £245, now £120, House Of Fraser
Sale time is the best time to invest in some high quality denim wear. It's guaranteed to stand the test of time and look fabulous too. These classic mid-rise skinny in a super stretch denim blend are an ideal pair of everyday jeans in a beautiful shade of blue.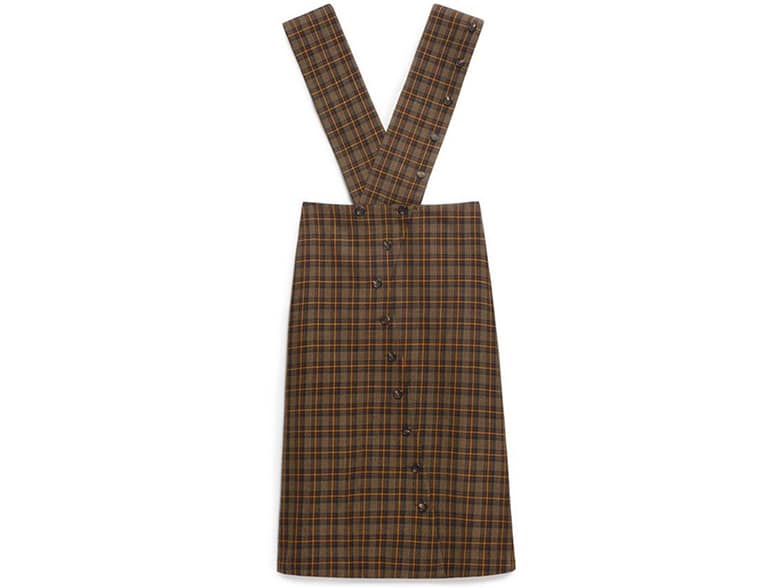 Olive wool check skirt, was £910, now £455, Mulberry
This check tabard skirt from Mulberry wouldn't be out of place in a Wes Anderson film about Girl Scouts. Made from checked wool, with an asymmetrical closure to the front, it can be worn in two distinctive ways thanks to detachable braces.
Black wool kilt, was £175, now £122, The Kooples
This kilt is a classic - short, black pleated and can be used as a true wardrobe foundation. Its plain design invites you to experiment season after season with different accompaniments, letting you channel your inner school student one day, and go all out punk the next.