Keeping an eye on what you eat doesn't mean giving up brunch - one of Londoners' favourite pastimes. Browse our top four cafés and restaurants for low-gluten brunches.*
In French, 'le pain quotidien' means 'the daily bread', but it's not all dough-y goodness at this al fresco Belgian cafe. Sweet tooths can enjoy organic gluten-free granola, raspberry crunola parfait, or creamy chia seed pudding. The bakery cafe also has a nutrient-rich seeded gluten-free bread made from buckwheat, oat and corn flour. Simply substitute it into any of LPQ's savoury breakfasts and you're good to go.
Feeling uber indulgent? This is the place for you. Balans believe that too much of a good thing is a good thing, so prepare to knock back some cocktails or mocktails with your meal. You can swap a rice flour based bread into most of their dishes, and there's also absolutely nothing hellish about their low-gluten 'Eggs In Hell', a type of shakshuka which tops the must-try list.
Find Balans at Westfield London W12 >
Bills is synonymous with good coffee, wholesome breakfasts and lazy weekends. With a sunny conservatory, eclectic interior design and cosy couches, it's the perfect brunch spot. Gluten-free bread is an option in their scrumptious dishes - such as the ever-popular Bills Breakfast or Vegetarian Breakfast.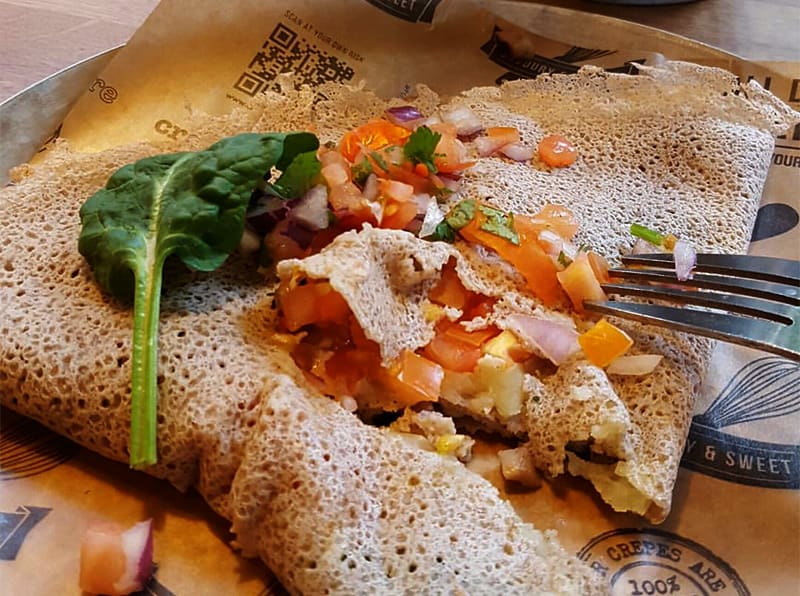 Crepes here are made to order, and their gluten-free buckwheat option is also convenitently vegan and dairy-free. Simply select gluten-free crepe and a filling from the regular menu and dig into your soft, fresh galette. We recommend a classic cinnamon, butter & sugar crepe or smoked salmon and cream cheese crepe. Dreamy.
Find Crepeaffaire at Westfield London W12 >
---
*Disclaimer: Due to the nature of each restaurant's preparatory areas, there is no guarantee that a dish is completely gluten free, due to the presence of gluten-containing products in their kitchens. Therefore, even with strict controls and separation, there is possible risk of cross contamination.