PUBLISHED 23 April 2018 | UPDATED 23 April 2018
More restaurants than ever before are catering to the vegan diet. From moreish Mexican food to Lebanese feasts and great Greek dishes, here are all the delicious vegan meals you can enjoy right here at Westfield. 
---
Leon's newfound vegan menu offers so many options we don't even know where to begin. If you're after something light and cheerful, we highly recommend either the porridge with banana & cinnamon or with blueberries, honey & toasted seeds. For your main course go all out and order the meatless meatballs, made from aubergine, black olive & rosemary and complimented with a tomato sauce. Not your thing? How about the LEON plant burger, made with edamame, lemongrass and chili. Treat yourself to a green smoothie, and one of many baked treats whilst you're in-store too. 
---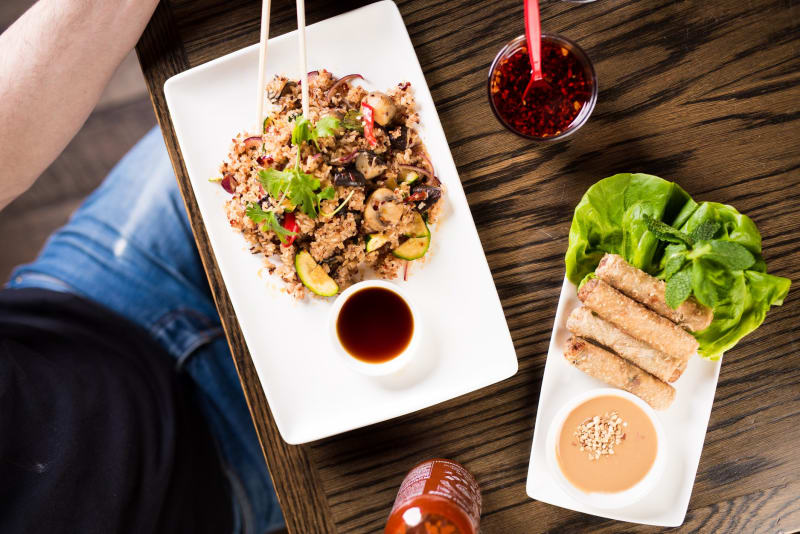 Pho fans will be pleased to hear that the Vietnamese restaurant recently added a whole host of vegan dishes to their menu. From spring roll starters to salads and noodles, you really are spoilt for choice. The newly added vegan broth is certainly one to try, with the choice of fresh toppings including zucchini and king mushroom. Fancy something a little spicier? The Com Tam broken rice will be right up your street; a rich Vietnamese curry mixed with vegetables, mushrooms and nuts, served with a side of broken rice. 
Find Pho at Westfield Shepherd's Bush
---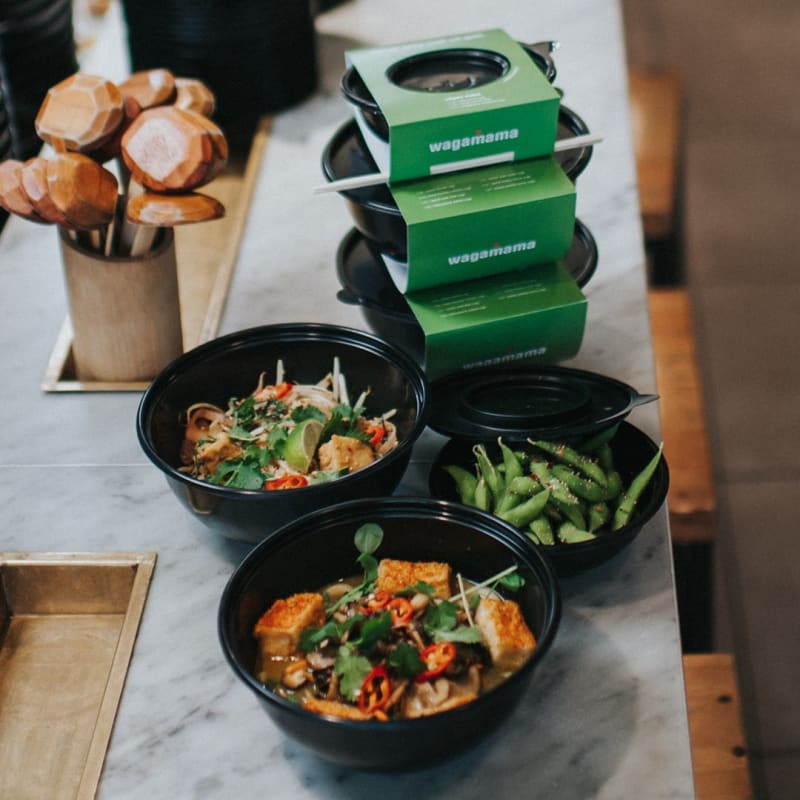 Gone are the days of scouring the allergen list for what to eat at Wagamama. The restaurant has now launched a dedicated vegetarian and vegan menu which doesn't compromise on flavour or nutrition. Start with the yasai steamed gyoza and wok-fried greens, with a side of edamame. The main courses are certainly the star of the menu; the yasai samia curry is a fragrant, creamy coconut dish with the perfect amount of spice, and the kare borosu ramen features a flavour-packed veggie broth. You can even treat yourself to a lemongrass and lime or pink guava and passion fruit sorbet dessert.
Find Wagamama at Westfield Shepherd's Bush
---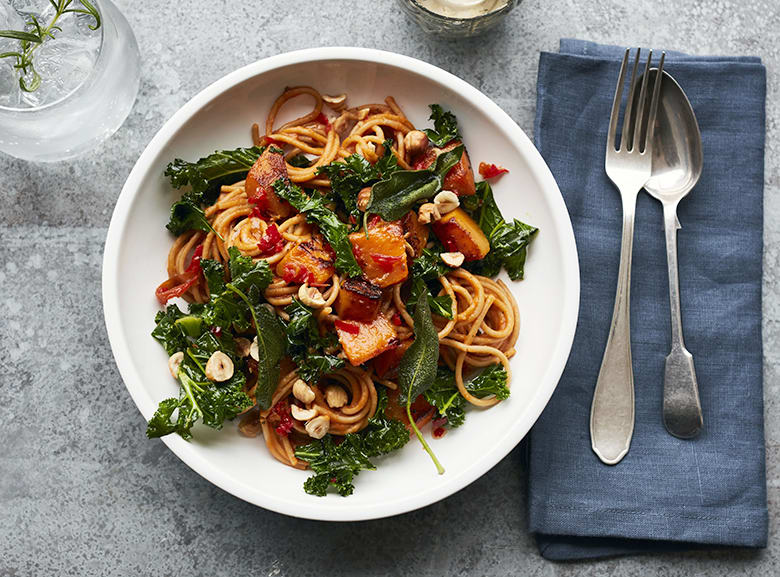 We're pleased to say Carluccio's has introduced their own plant-based Italian selections to their menu. Start with their tomato bruschetta or crostini al funghi before moving onto the main course. The new spaghetti con polpette di pane consists of semi-dried tomatoes. garlic, capers and rustica olives served in a tomato and basil sauce alongside spaghetti. Add a side of misto di funghi, which includes sauteed mushrooms with garlic and chilli, too. 

---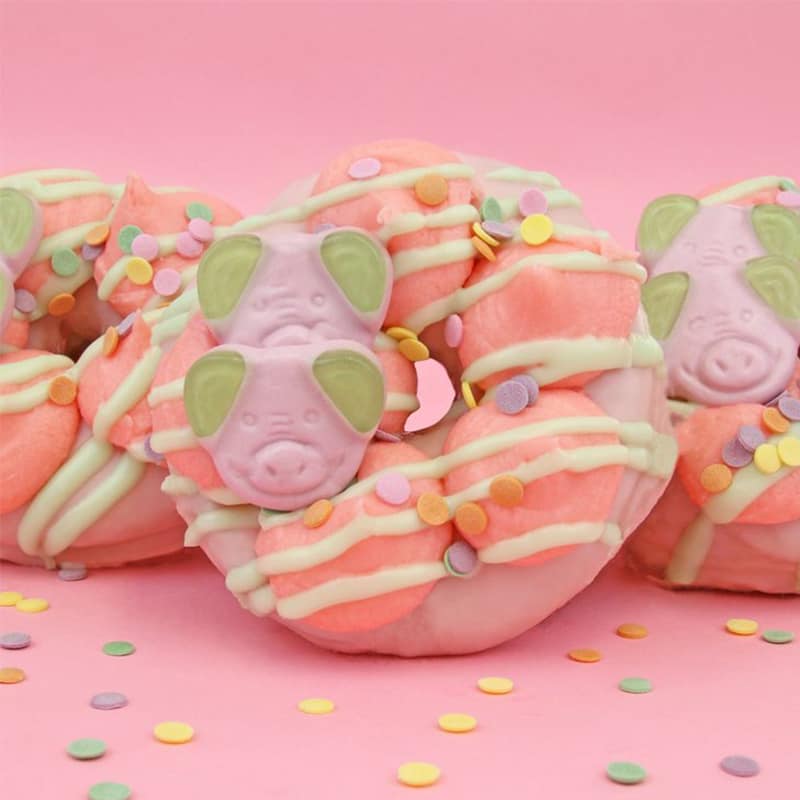 Doughnut lovers, rejoice! The good folks over at Doughnut Time have made their Notorious P.I.G vegan. Strawberry glaze with strawberry buttercream, topped with sprinkes and a creamy glaze drizzle as well as M&S veggie Percy Pigs. Other vegan doughnuts include Houston We Have Biscoff, SIA Later, Cornelius Fudge and Pump Up The Jam. So many options! 
---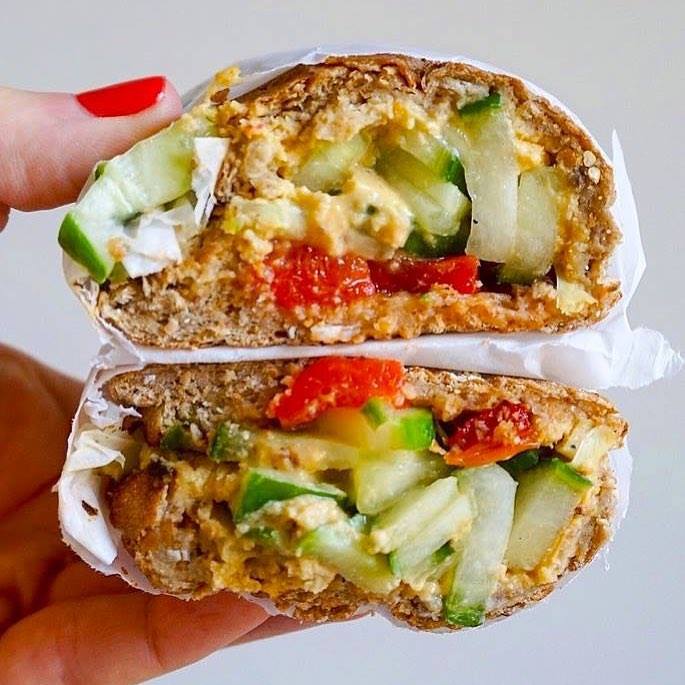 Whether you're after breakfast, lunch, or dinner, Potbelly's vegan menu has you covered. Start your day with a bowl of Irish oatmeal with walnuts, bananas and brown sugar. For lunch indulge in a garden vegetable or spicy black bean and roasted tomato soup, or opt for a chickpea salad with as many dressings as your heart desires. Fancy something a bit heartier? Choose from Big Jack's PB&J sandwich or the Mediterranean without cheese, plus toppings. 
---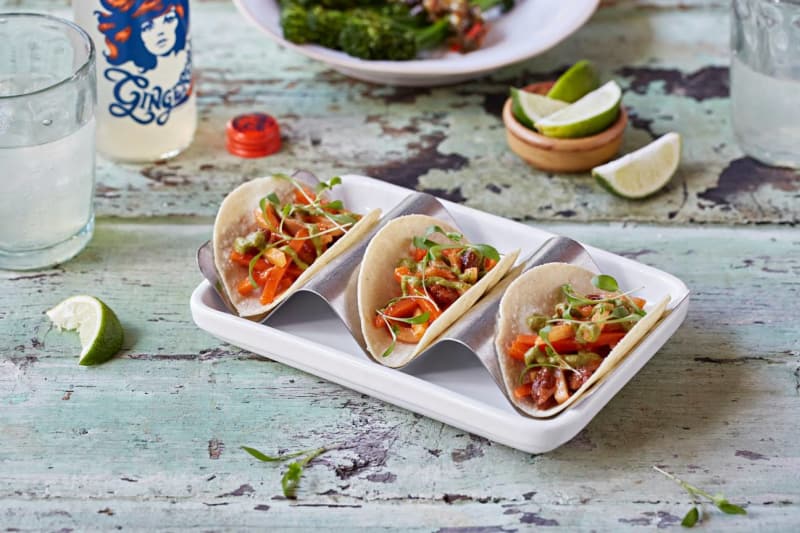 Wahaca has one of the most extensive vegan menus on this list, beginning with arguably the tastiest guacamole & tortilla chips in London. For a shareable starter, we recommend the plantain tacos with black beans, marinated cabbage and sweet and spicy chipotle adobo. If you fancy a bulkier main then opt for the fire-roasted poblano pepper burrito, and there are loads of vegan sides to choose from if you're really hungry. When dining in spring or summer, try the sonora salad with roasted winter vegetables, served in a crispy (and edible) tortilla bowl. Finish off with their refreshing mango sorbet.
Find Wahaca at Westfield Shepherd's Bush
---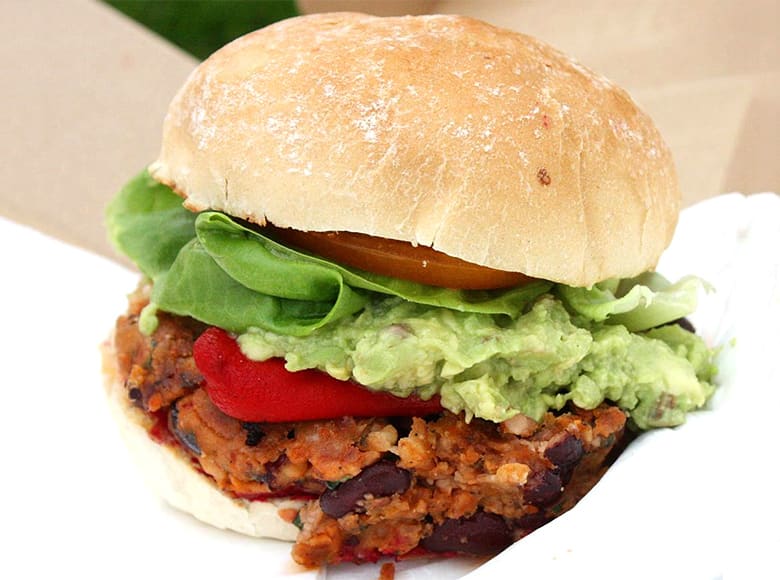 There's only strictly one vegan burger on the Gourmet Burger Kitchen menu*, but when you're craving that carb-y hit, this is the one. The Dippy Hippy burger is made with a pan-fried bean patty, beetroot and mint hummus, avocado, piquillo pepper, salad and house relish, all sandwiched in a delicious sourdough bun. Team it with a juicy side of chargrilled corn, and you'll be smacking your lips.
Find GBK at Westfield Shepherd's Bush
Find GBK at Westfield Stratford City
*GBK's Falafel Burger and Fries, while vegan themselves, are off-limits if you're a strict vegan as they are cooked in oil used for menu items containing milk and eggs.
---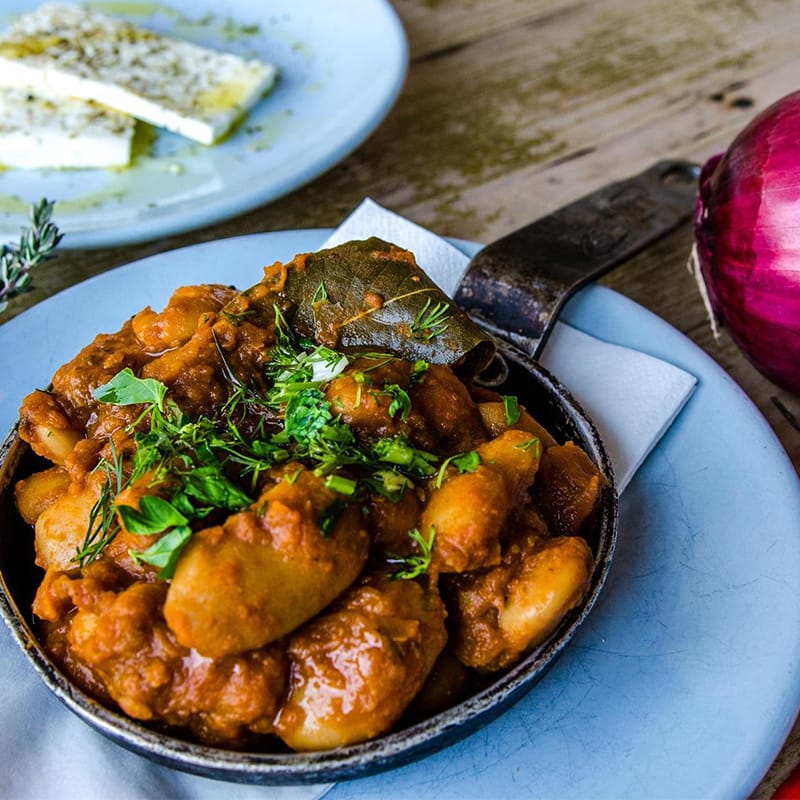 In an iconic scene from My Big Fat Greek Wedding, Ian, the love interest of main character Toula, is 'ousted' as a vegetarian, to which Toula's aunty shrugs and declares "That's okay! I make lamb!". This attitude, albeit comical, is nowhere to be seen in Tonia Buxton's herbivore-friendly menu. Feast on a mezze of dips including hummus, melitzanosalata and green pea fava, plus crudites, chickpea filo triangles and more. For mains, choose between Tonia's 'no feta' Greek salad, grilled aubergine with garlic tomato sauce, or moussaka with a jackfruit mix. Add a side of new potatoes if you're extra hungry. Opa!
Find The Real Greek at Westfield Shepherd's Bush
---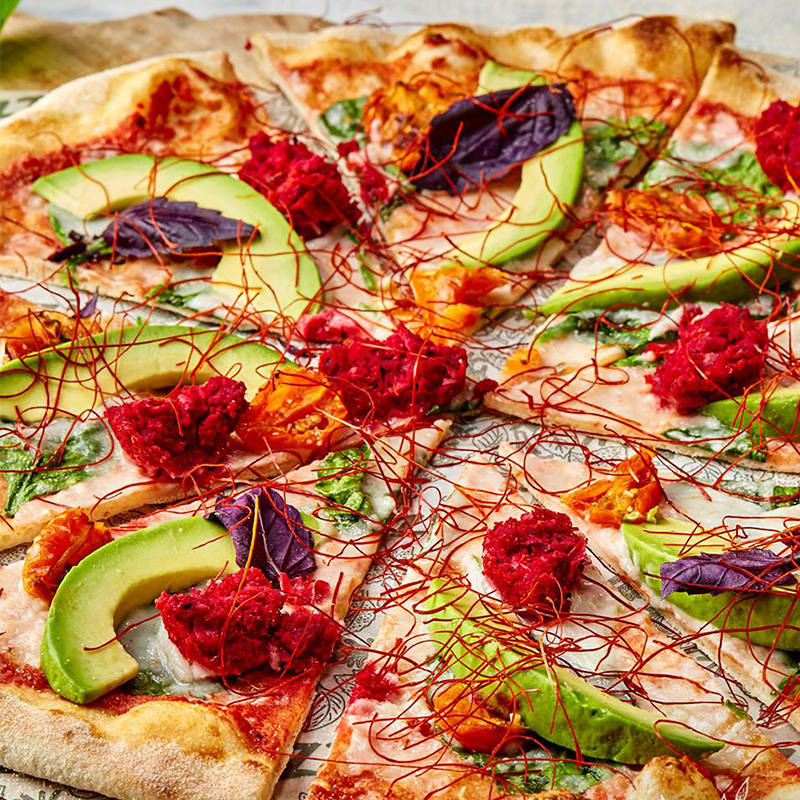 Pizza lovers rejoice! Zizza is catering for your every need with their vegan menu. Albeit the only pizza on offer is a Margherita (with the mozzarella being substituted for a coconut oil alternative), but you can still choose up to three topics to personalise your pie. Zizzi also offer a range of vegan pastas, starters and desserts, including the delicious dessert calzone made from warm sugared dough filled with banana, caramelised pecans & blueberries served with coconut & chocolate gelato. 
Find Zizzi's in Westfield Shepherds Bush
---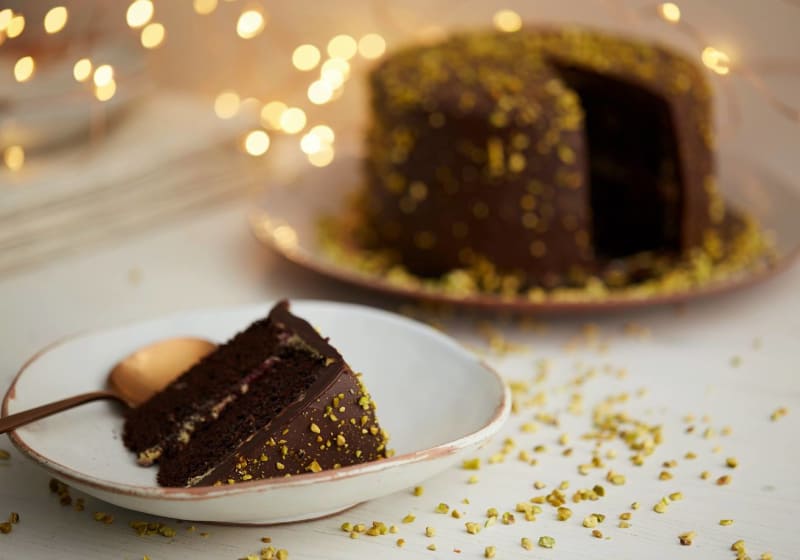 Lola's offer five vegan cupcake flavours and full-sized cakes, and each is moist, fluffy and hands-down delightful. Iced and filled with creamy coatings of soya-based buttercream, you can choose between cupcake flavours of lemon & raspberry, coconut & strawberry, fudge, pistachio & cheery and the award-winning coconut & passionfruit. Order yours today, and your sweet tooth will thank you.
Find Lola's Cupcakes at Westfield Shepherd's Bush