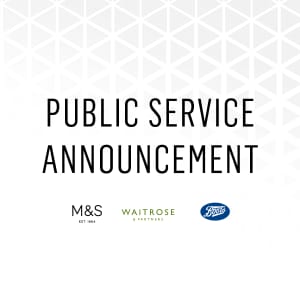 Covid-19 Public Service Announcement
We urge anyone coming to our centres to purchase essential items, to please practice social distancing and be considerate to other customers and employees.
At M&S, senior & vulnerable customers have dedicated shopping hours 8am-9am Mondays & Thursdays and NHS workers at the same time Tuesdays & Fridays.
At Waitrose, senior & vulnerable customers and those shopping on their behalf have dedicated shopping hours 8am-9am Monday-Saturday and 12pm-1pm Sundays. For NHS workers, dedicated essential products and priority checkout are also in place.
Boots has an NHS contract to provide NHS pharmacy services to the local community. Ichiba also remains open, offering 20% off takeaway and groceries for NHS staff.
With the increasing shortage of availability of online delivery, those essential stores are working around the clock to stock their shelves and provide hard to purchase items for our communities.
You can see a full list of stores currently open here.
We fully recognise the impact this situation is having on all our communities and our thoughts are with all those who have been impacted.