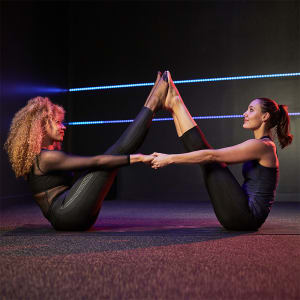 Bring a friend, family member or special loved one to FirstLight and enjoy an uplifting partner yoga which will build up to some easy Acro-Yoga moves. This special one-off workshop will include a range of partner-work using heart-opening yogic postures, eye-gazing and meditations - culminating in an energizing acro-yoga session. Combining the power of yoga with FirstLight's cutting-edge mood-boosting light-technology, you'll leave feeling a beautiful connection between your chosen yoga partner and yourself.
Tickets cost £20 per couple and can be booked online or by calling the studio direct.
Participants must be in couples and must bring workout gear.