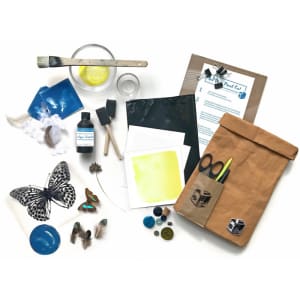 Learn how to make you very own Cyanotypes! This historical process involves contact printing objects and negatives onto light-sensitive paper in the sun. It is fun, easy to learn and ideal for experimentation.
In this workshop you will:
Get an overview of the cyanotype process and what a cyanotype is.
Learn how to prepare your own light-sensitive cyanotype paper.
Explore ways of creating your very own pieces of art using objects and negatives.
Practise exposing and developing the paper to produce beautiful prints.
Each person will produce a variety of bespoke pieces of art, learn how to archival mount ready to frame and put on your walls.
You also get to take away a DIY cyanotype art kit complete with everything you will need to continue to print at home.
Tickets cost £55 per person and include the DIY art kit to take home.
This event will be held within the West Elm store, on Level 0 near John Lewis.