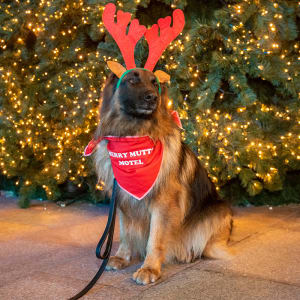 Merry Mutts Motel at Westfield London
–
Book Now
Urban Mutts have launched an exclusive canine winter cabin, so you can crack on with the Christmas shopping whilst your dog enjoys a stay at the Merry Mutts Motel. During your dogs stay they will be taken on a winter walk to the local park, dress up for their very own Christmas card shoot and learn a new trick or two!
The exclusive motel will raise funds for Wild at Heart Foundation, with 100% of donations contributing towards the charity's work in international dog rescue and adoption projects.
When: The Merry Mutts Motel is open from Wednesday 4th - Sunday 8th December, welcoming dogs on weekdays from 5pm-9pm with two-hour slots from 5pm-7pm and 7-9pm and 12pm-4pm on Saturday and Sunday.
Booking: To book a slot for your four-legged friend, please book online or visit the Motel on Westfield Square. The 2-hour slot will be bookable for a minimum £5 donation to the Wild at Heart Foundation.
Dog owners looking to book their pet pooch into the Merry Mutts Motel must ensure their dog is:
1. Over a year old
2. Social with other furry friends and humans
3. Happy in supervised dog daycare
4. Fully vaccinated
5. In good health
6. Neutered / Sprayed
7. Is excited about Christmas
8. Please inform the team of anything they may need to know about your pooch
Please note:
Bookings may be turned away if the dog seems in any way distressed or not happy in the environment.
Aggressive or disruptive dogs, unfortunately, will not be allowed entrance.