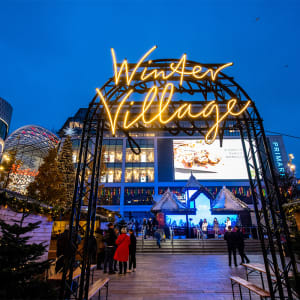 The Christmas Market at Westfield London
–
| | | |
| --- | --- | --- |
| Day | Date | Time |
| Sunday | 15 Dec | – |
| Monday | 16 Dec | – |
| Tuesday | 17 Dec | – |
| Wednesday | 18 Dec | – |
| Thursday | 19 Dec | – |
| Friday | 20 Dec | – |
| Saturday | 21 Dec | – |
| Sunday | 22 Dec | – |
| Monday | 23 Dec | – |
| Tuesday | 24 Dec | – |
From traditional German sausages and mulled wine, to gorgeous gifts and artisan produce, The Christmas Market has all you need to fill your festive boots! Shop jewellery, homewares and winter-warming scarves, as well as chocolate treats, cheeses and handcrafted gin from our range of British traders. Find the perfect Christmas gift whilst enjoying the flavours of the festive season.
Plus, enjoy a festive drink or two and live DJ sessions every night of the week at the Après bar. See below for a full list of The Christmas Market traders and what's on offer!
Après bar
Monday to Wednesday from 2pm-10pm
Thursday to Saturday from 12pm-10pm
Sunday from midday to 9pm.
Street Food
Chapter Coffee: Award-winning, freshly-roasted, speciality coffee with the finest selection of handmade sweet treats to go alongside.
¡Dios Mio! Churros: Inspired by the streets of Spain, the ¡Dios Mio! Churros team makes traditional hand-crafted churros served with a variety of innovative and vegan-friendly sauces.
L'Amuse Bouche: Specialising in sweet or savoury crepes and galettes, L'Amuse Bouche combines some of the French's favourite snacks, giving you both scrumptiously sweet and cheesy treats.
Smoke&Bones: This husband and wife duo combine a passion for all things barbecue and slow-cooked meats, creating delicious food cooked over aged-oak and full of flavour.
Tacobang: Authentic Mexican tacos from the Oaxacan region, made with 100% gluten-free corn tortillas and fresh sauces to complement the delightful fillings.
The Duck Shed: Slow-roast, free-range pulled English duck and goose served 3 ways, either in a brioche bun, a wrap or a salad box, accompanied by homemade jams and sauces.
The German Sausage: A Christmas Market classic, The German Sausage serves a range of glute-free German sausages in a variety of flavours and served on a brioche bun, topped with fried onions and sauerkraut. Halal and vegan sausage is also available.
Christmas Cabins
Ask Mummy & Daddy: Passionate about great British confectionery, Ask Mummy & Daddy offers premium sweets perfect for the whole family.
Ballonet Socks: Bring a splash of colour to your outfit with Ballonet Socks, a design socks company that celebrates individual style with bold colours and unique designs.
Cantini London: Family-run business Cantini London is a handmade leather and and accessories company founded in 2015.
Chocolate Kiss Co: Make a chocolate lover's festive season complete with Chocolate Kiss Co, an exquisite treat made in a variety of delicious flavours and toppings.
Evelyn Winter: Beautiful, current, high-quality jewellery, the perfect gift and finish to any outfit.
Foxdenton Estate Company Ltd: Foxdenton Estate Company specialises in the production of English Fruit Gin Liqueurs and London Dry Gin, their aim is to make great seasonal drinks based on traditional recipes and using British fruits
Hamam Square: Over 20 vibrant colours of authentic Turkish peshtemals, also known as hammam towels, the finest 100% natural cotton blankets perfect for the colder months.
John Lewis & Partners: With their store entrance located in Westfield's Market Square, John Lewis & Partners will be showcasing a lovely selection of Christmas decorations and specially curated 'Find, Keep, Give' gift collection.
Maison Des Rêves: With their name meaning "House of Dreams", Maison Des Rêves have the dream to spread positivity and empowering individuals to greatness through their clothing and homeware range.
Ntsama Chilli Oil and Sauces: Family-run business Ntsama Chilli Oils and Sauces creates a fusion of oils and sauces based on Cameroonian recipes, using the finest, hottest Scotch Bonnet Chillies. All products are handmade using only fresh ingredients.
Sally Lane Jewellery: Strong yet feminine jewellery designed around the triangle to empower the wearer, with an inspirational message behind each piece.
Solid Cologne: Long-lasting, strong and masculine wax-based cologne for men. Portable, natural and moisturizing, the cologne is made using natural ingredients and is skin-friendly.
The Cheese Geek: With the mission to make eating and exploring cheese easier and more fun, The Cheese Geek offers cheese subscription boxes to bring you the top seasonal picks, new discoveries and new combinations.
The Chuckling Cheese Company: A range of delicious wax truckle flavoured and mature cheeses. Put a twist on your Christmas countdown with the newly-launched cheese advent calendar.
The Curious Yak: Wrap up warm this winter in The Curious Yak's beautiful scarves, blankets and slippers, which are all ethically sourced and handmade.
W + W Workshop: Wax + Wick creates unique scented soy wax candles handcrafted from repurposed glass bottles. All candles are vegan-friendly, plastic-free and use locally sourced materials.
The Wonderland Collective Cabin: Visit the Wonderland Collective Cabin and discover a wide range of independent British brands. Traders will include a showcase of products, including local artwork, vegan beauty, homeware and more.