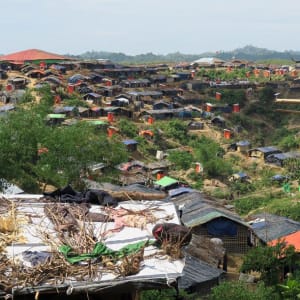 Immersive Refugee Camp by British Red Cross at Westfield Stratford City
–
British Red Cross' free immersive exhibition brings the world's largest refugee camp, Cox's Bazar in Bangladesh, to Westfield Stratford City for one week.
In August 2017 more than 740,000 people were forced to flee their homes with nothing, and seek safety in Bangladesh after violence erupted in Rakhine state in Myanmar.
The majority of those who survived the journey and crossed the border into Bangladesh now live in the largest refugee camp in the world.
As the emergency reaches its second anniversary, see what life is like for hundreds of thousands of refugees in Cox's Bazar.
This exhibition will let you:
experience the journey made by thousands of fleeing refugees
see, touch and hear elements of camp life
discover the real stories of people who made the journey and learn what life is like for them now in Bangladesh.
This free exhibition will be located on the 1st floor, outside John Lewis, at Westfield Stratford City.