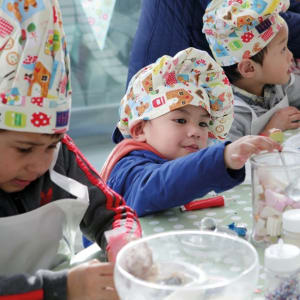 This weekend, Westfield will hold messy kids baking workshops, hosted by handcrafted bakers, BKD. On Saturday 10 March, the BKD workshops will give children the opportunity to get creative with flower biscuit decorating, which they can take home as a present for Mother's Day or enjoy to eat for themselves!
The free workshops will be filled on a first come, first served basis and a Westfield's Kids Club membership is required for participation. Children can be signed up by emailing, or can sign up on the day.
From 10am-4pm, the 20 minute workshops will take place at Westfield Stratford City on the first floor, by John Lewis. Time slots are: 10am, 11am, 12pm, 1pm, 2pm, 3pm.
Details
When: Saturday, 10 March
Time: 10am - 4pm, 20 minute slots on the hour
Where: Westfield Stratford City, First Floor next to John Lewis
Ages: Children must be aged between 2 - 8 years old to participate
To reserve a space, please email kidsclub.westfieldstratfordcity@Westfield.com with your preferred time and number of children attending.